With unknown, zero day and advanced persistent threats on the rise, a single 'Patient Zero' infection is all it takes to cause serious damage
What is Advanced Endpoint Protection?
Advanced Endpoint Protection is next-generation cyber security that blocks bad files and automatically contains unknown files in a virtual container using Default Deny Platform™ and containerization technology. The unknown "contained" file is analyzed and an accelerated verdict is obtained through the Valkyrie cloud-based advanced malware analysis platform.
Comodo Advanced endpoint protection
Comodo Advanced Endpoint Protection provides a lightweight, scalable Default Deny Platform with a unique endpoint security approach, which results in complete protection and enterprise visibility. The app based platform eliminates complexity and solution overlap. Provisioned in minutes, Advanced Endpoint Protection also includes unified IT and security management console, that through an app enabled platform reduces the effort of managing your Android, iOS, OSX, Linux, and Windows devices, on every segment of your physical and virtual networks
How Advanced Endpoint Protection Works
Advanced Endpoint Protection uses the Default Deny Platform™ to block bad files and automatically contain unknown files in a virtual container, using containerization technology.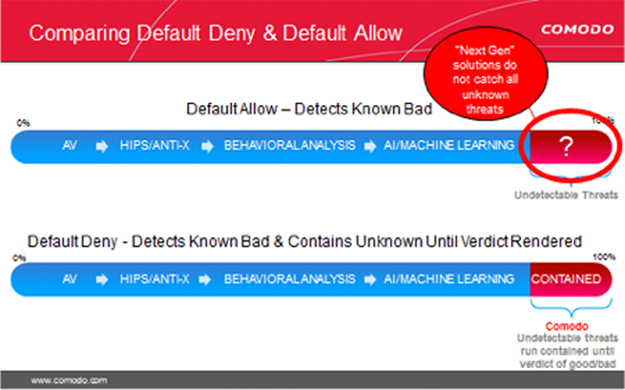 The Comodo VirusScope technology is used to analyze unknown files at the endpoint, for malicious behavior and actions. The Valkyrie provides a cloud-based accelerated verdict in about 45 seconds, based on static, dynamic and even human analyst interaction. Malware files are removed, good files are allowed to run on the endpoint CPU and unknown files are contained in the lightweight virtual container on the endpoint and analyzed in real time.
Advanced Endpoint Protection can be provisioned in approximately a minute's time; it uses negligible CPU resources and requires an endpoint footprint of just about 10 MB. The program provides complete security for both physical and virtual endpoints in all kinds of enterprises- big or small.
Related Comodo AEP Sources
85,000,000
85 Million Installations
1,000,000,000
Billion Files Contained Without Infection
600,000
Comodo Brand: Trusted by Six Hundred Thousand Business Clients
"Comodo's new Advanced Endpoint Protection
represents the vanguard of next-generation solutions that mark
a major milestone in the fight against endpoint malware"
– Comodo Newsletter featuring Gartner research.
Download your complimentary Newsletter on how to solve your malware problem NOW!
Join us for a discussion on how both legacy and advanced products fail, and demonstrate how Comodo Advanced Endpoint Protection defeats unknown, zero day malware, while reducing solution overhead.